Karpathos Travel Guide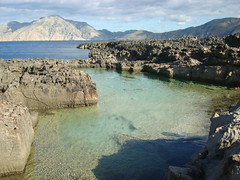 Karpathos is the second largest of the Greek Dodecanese islands, in the southeastern Aegean Sea. Together with the neighboring smaller Saria Island it forms the municipality Karpathos, which is part of the Karpathos regional unit. From its remote position Karpathos has preserved many peculiarities of dress, customs and dialect, the last resembling those of Crete and Cyprus. The island has also been called Latin: Carpathus, Italian: Scarpanto, Turkish: Kerpe.
Geography
The island is located about 47 kilometers southwest of Rhodes, in the part of the Mediterranean which is called, after it, the Carpathian Sea. The Sea of Crete, a sub-basin of the Mediterranean Sea, has its eastern limit defined by the island of Karpathos. Karpathos' highest point is Mt. Lastos, at 1,215 metres. Karpathos comprises 10 villages. All villages preserve intensively the traditional style of the island. In the southeast of the island you can find Pigadia, capital and main port of the island. The capital is surrounded by the villages of Menetes, Arkasa, Aperi, Volada, Othos, and Pyles. In the North one can find Mesochori, Spoa and Olymbos the last village in the North of the island, of great folkloric and architectural interest. There are two ports in the island; one is in the town of Karpathos and the other in the north of the island next to Olympos named Diafani.
The island Saria was united with Karpathos in the ancient times with an isthmus, but an earthquake divided them. Saria preserves many important antiquites, but they haven't been studied enough.
Map of Karpathos with accommodations
The blue markers shows the location of various accommodations in Karpathos. The letter in the marker describes the accommodation types: H for Hotel, A for Apartment, R for Resort, B for Bed & Breakfast and O for Other (e.g. pension, villa). Click on the blue marker for more information on the accommodation.