Metsovo Travel Guide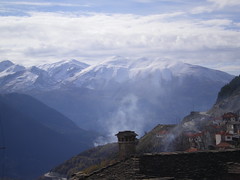 Metsovo is a town in Epirus, in the mountains of Pindus in northern Greece, between Ioannina to the north and Meteora to the south.
The largest centre of Aromanian life in Greece, Metsovo is a large regional hub for several small villages and settlements in the Pindus region, and it features many shops, schools, offices, services, museums, and galleries. The economy of Metsovo is dominated by agriculture and tourism, the latter of which flourishes in winter.
Metsovo is served by Greek National Road 6 and by the Egnatia Odos motorway.
Map of Metsovo with accommodations
The blue markers shows the location of various accommodations in Metsovo. The letter in the marker describes the accommodation types: H for Hotel, A for Apartment, R for Resort, B for Bed & Breakfast and O for Other (e.g. pension, villa). Click on the blue marker for more information on the accommodation.