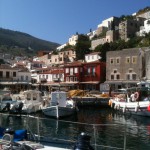 Last Wednesday, we sailed back from Hydra, a cosmopolitain island in the west Aegea Sea, to the picturesque fishing village of Perdika on the island of Aegina. The video shows a small excerpt of the wonderful sailing conditions we had and was taken in the Saronic Gulf in the middle of the afternoon a few nautical miles away from Aegina.
The sailing yacht we were on and that you can see on the video is a 45 feet and over ten tons Jeanneau Sun Odyssey 45.2 from 2003.
In a later post I will detail all the great sailing fun we had during our one week non-tidal day skipper course in Greece.