The quintessence of the Mediterranean diet on a plate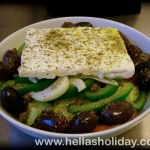 Hooray! Summer solstice; officially the first day of summer!
No no! Wait a minute… That's not entirely correct!
Well, actually, if we wanted to be slightly more precise, the summer solstice for the Northern hemisphere occurs exactly when the axial tilt of Earth's semi-axis in the Northern hemisphere is most inclined towards the Sun. As a consequence, the summer solstice is more of a single moment in time (for 2012 it falls on the 20th of June at approximately 23:09 UT) rather than a whole day…
This particular moment, though, does signify the start of summer in the astronomical sense.
So, now that we have clarified this, I think we may go on with our summer celebration!
And the best way to do this, we figured, would be with an article dedicated to one of the most summery plates on earth: the real Greek salad! And when we say real, we mean real. If you find yourself reading through this post, chances are you were looking for the right recipe for this delicious, healthy and utterly refreshing summer plate. And there are loads of recipes out there, but which one to follow?
Hellas Holiday has found the authentic recipe for the traditional Greek salad and is sharing it with you to celebrate summer!
So, there you are, and we hope you enjoy it as much as we did!
Did you know?
The name of the Greek Salad in Greece is "choriatiki salata" (Greek: χωριάτικη σαλάτα), which literally translates to "village-style salad".
Ingredients for the real Greek salad
For 2 persons you will need the following:
1/2 kilogram of ripe but reasonably stiff tomatoes (so you can easily slice them without mashing them up)
1/2 a medium-sized onion or one shallot
1/2 a green pepper
1/2 a cucumber
40 grams of Greek black olives (preferably Kalamata olives, a variety from the region of Kalamata)
90 grams of Feta cheese (make sure you use Greek Feta cheese and avoid any imitations, such as white salad cheese or goat cheese; shocking as it may sound to you, Feta cheese is not made from goat's milk; it is made from Greek sheep's milk or a combination of a minimum of 80% Greek sheep's milk and a maximum of 20% Greek goat's milk)
40 grams of Greek extra-virgin olive oil (this is very important: Greek extra-virgin olive oil may be slightly more expensive than refined olive oils, but it is by far the healthiest and tastiest of all. Make sure it has a dark green colour and reasonable viscosity  —it should not be too runny—,  and it is stored in a dark green glass bottle to protect its valuable characteristics from oxidation and guarantee its quality)
capers (optional, but make a good match)
dried oregano
salt
Method
Wash well the tomatoes and slice them to a half-moon shape.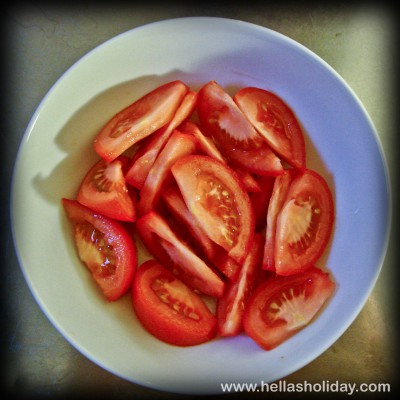 Peel the cucumber, cut it in two halves lengthwise and then vertically in half-moon slices.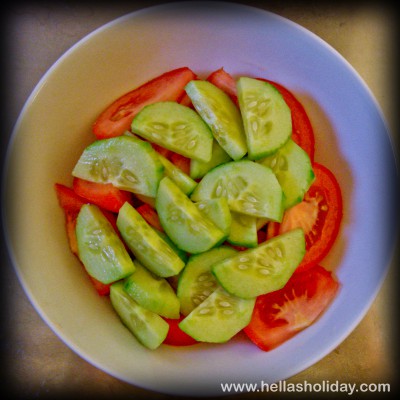 Peel and slice the green pepper and the onion.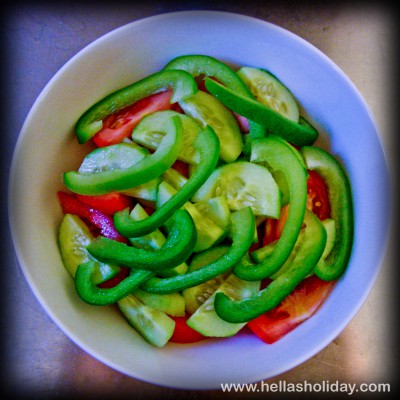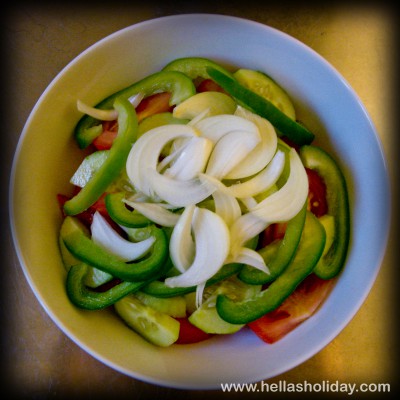 Add a pinch of salt (do not put too much salt, as the Feta cheese and olives already contain a significant amount of it).
Now, add the olives.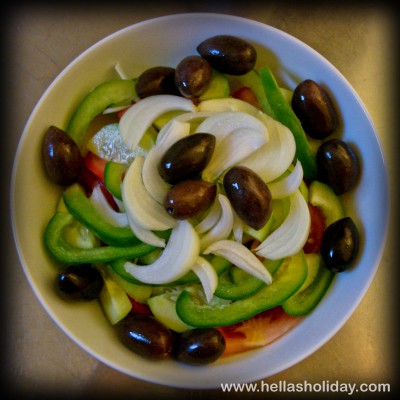 Add the capers.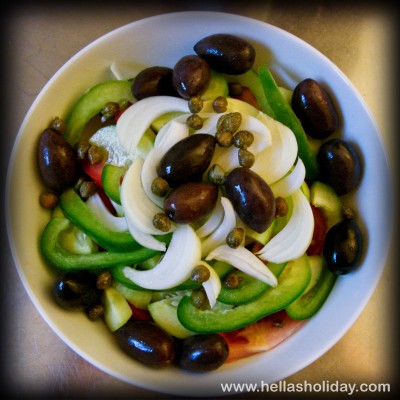 Place a block of Feta cheese on top.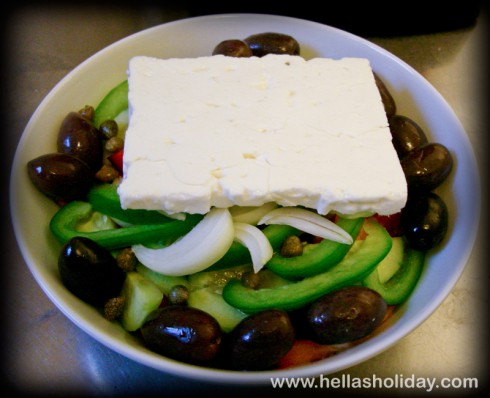 Finally top with olive oil and sprinkle with dried oregano.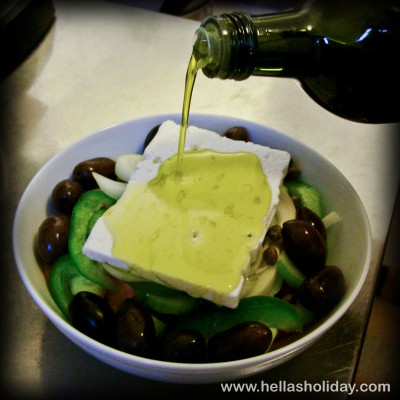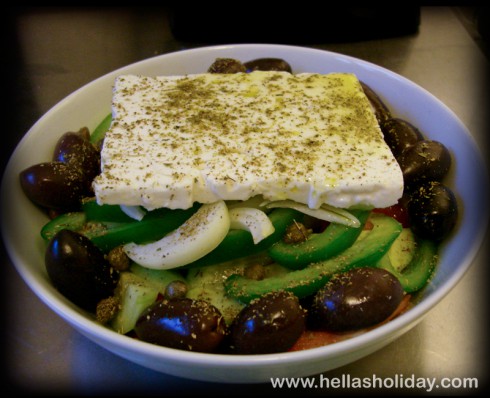 Enjoy!
And do not forget that the Greek salad contains all the healthiest and tastiest elements of the Mediterranean diet.
If you are looking for some genuine Kalamata olives, Greek olive oil and Feta cheese, you may want to have a look at our online shop for Greek products.