Kalamata Travel Guide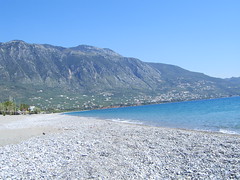 Kalamata (Greek Καλαμάτα) is a city in South Peloponnese and the capital of the prefecture of Messenia. It has a population of 57,620 inhabitants as of 2001, which makes it the second biggest city in Peloponnese and the tenth in the whole country. It is situated 238 km southwest of Athens, between two peninsulas, the Peninsula of Mani (Cape Tainaron) in its east and the Messenian Peninsula (Cape Akritas) in its west. The city is built facing the Messenian Gulf, where its port is situated and connects the city with Crete (Chania), the islands of Cythera and Anticythera, and the town of Gytheio.
Kalamata is an agricultural region, well-known for the homonymous Kalamata olives and its excellent olive oil.
Places to visit
the old town in the centre of Kalamata
the village of Ano Verga with its stunning view to the city of Kalamata and the Messenian Gulf
the Mountain range Taygetus (highest summit: Profitis Ilias 2,407 metres)
the picturesque village of Nedousa hidden in the mount range of Taygetus
Monuments and Museums to visit
the Castle of Kalamata (thirteenth century)
the historical byzantine church of Aghioi Apostoloi
the Benakeion Archaeological Museum of Kalamata
the History and Folklore Museum of Kalamata
the Military Museum of Kalamata
the Railway Museum of the Municipality of Kalamata
the region of Ancient Messene near Kalamata
Events to attend
Food and Drinks to taste
Kalamata olives
olive oil
fresh and dried figs
balsamic vinegar
pasteli: a delicacy made of sesame seeds and honey or sugar
kagianas: scrambled eggs with tomato and sometimes cured pork meat
pasto: cured pork meat
lalaggia: a type of oblong doughnut
diples; a type of pastry deep fried and topped with honey and coarsely ground nuts (walnuts, almonds)
hog roast
fresh fish and seafood
Map of Kalamata with accommodations
The blue markers shows the location of various accommodations in Kalamata. The letter in the marker describes the accommodation types: H for Hotel, A for Apartment, R for Resort, B for Bed & Breakfast and O for Other (e.g. pension, villa). Click on the blue marker for more information on the accommodation.