Kalambaka Travel Guide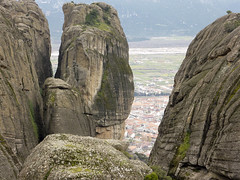 Kalambaka (Greek Καλαμπάκα) is a town in the prefecture of Trikala, central Greece, and it has a population of 7,721 inhabitants as of 2001. The town is built on the location of the ancient city of Aiginion (Greek Αιγίνιον). Αround the 10th century, the town held a byzantine fortress and it was known as Stagoi (Greek Στάγοι), while its current name, Kalambaka, comes from the Turkish words for "powerful fortress".
Kalambaka is built at the foot of Meteora and the east border of River Peneus, at the point where the river meats the plain of Thessaly.
Kalambaka is the perfect place to stay for those who wish to visit Meteora, River Aspropotamos (a tributary of River Acheloos), the mountain range of Chasia (highest summit 1,564 metres), Mount Koziakas (1,901 metres).
Places to visit
River Aspropotamos
The mountain range of Chasia
Mount Koziakas
The traditional villages of Pyli, Elati, Pertouli, Kalogeroi and Anthousa
Monuments and Museums to visit
the Meteora giant rock complex and the monasteries built on their summits
the prehistoric Cave of Theopetra, with proof of human presence since before the 21,000 BC and the oldest human-made wall in Greece and probably the whole world.
the stone-built single-arch bridge (built in 1514 AC; lenght: 67 metres) between Pyli and Elati, which is the second biggest single-arch bridge in Thessaly
the stone-built arch bridge in the village of Sarakina, south of Kalambaka
Events to attend
ROCKING under the ROCKS Festival, a three-days event featuring fresh and amateur rock bands and taking place at the open theatre of Kalambaka every July
Food and Drinks to taste
wines from the region of Meteora
soutzouki, a traditional sweet from Kalambaka, with fresh grape juice, flour and walnuts
sausages with leek
Map of Kalambaka with accommodations
The blue markers shows the location of various accommodations in Kalambaka. The letter in the marker describes the accommodation types: H for Hotel, A for Apartment, R for Resort, B for Bed & Breakfast and O for Other (e.g. pension, villa). Click on the blue marker for more information on the accommodation.