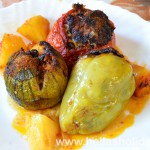 Summer on a plate!
Let's celebrate the first day of summer with one of the most summery recipes! Gemista stuffed vegetables is one of the most colourful and tastiest plates. You can make it all year round, but it is best during the summer, when it is the right season for the vegetables used in the recipe. That of course depends on where you live, as you may have access to these delicious vegetables all year round.
Ingredients for Gemista stuffed vegetables
This recipe is for 4 persons, but it can be easily halved or doubled accordingly.
12 whole vegetables, such as tomatoes, aubergines, courgettes and peppers; your choice!
500 g of uncooked non-aromatic long-grain fluffy rice, such as Carolina
2 large onions
2–3 garlic cloves
1 tbsp fresh spearmint leaves (measured when chopped)
1 cup (200 ml) of fresh parsley (measured when chopped)
300 ml of olive oil
4–5 large roasting potatoes
1 tbsp (level) of salt (preferably sea salt)
freshly-ground pepper to taste
1 cup (200 ml) of tomato juice (if the tomatoes you are going to stuff are juicy and ripe enough, you may want to reduce the amount of tomato juice or omit it altogether)
Now, these were the basic ingredients for this recipe. However, there are many different variations of it, depending on the region of Greece and of course the personal taste. Here is a list of optional ingredients that will give an extra kick to your dish! I actually use all of them, but you can choose to add the ones you prefer or decide to omit them altogether.
70 g of raisins
1 tbsp of pine seeds
300 g of beef mince or 2 tbsp of dried soya mince (although not a vegetarian, I prefer soya mince for this recipe, as it adds to the plate's flavour and texture, without heavily altering its taste; if you choose to use beef mince, you will have to reduce the amount of rice by approximately 200 g)
dried and finely ground breadcrumbs

You may find similar recipes calling for something other than rice as the main ingredient for the stuffing, e.g. couscous, bulgur wheat, barley, quinoa, millet etc. I have chosen to show you here the traditional Greek plate of "Gemista" stuffed vegetables, and this recipe is always made with rice; nothing else! That been said, feel free to variate any recipe you read here or elsewhere to your own taste. After all, it is through people's creativity that all these wonderful recipes were "born" in the first place!
Vegetable preparation for Gemista
Wash all vegetables thoroughly and place them in the baking tray to make sure that there is enough space for all of them.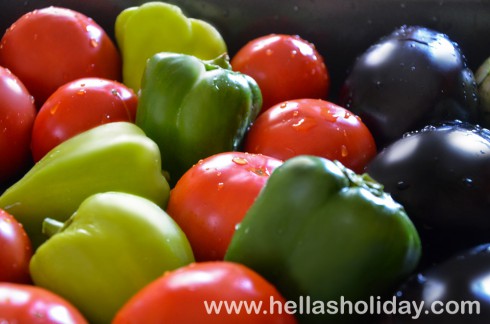 Slice off the top of peppers and courgettes (if using the round ones like we did here), the bottom of tomatoes (tomatoes tend to be more stable if placed upside down on the baking tray), the long side of aubergines and both round sides of oblong courgettes. This will generate a "lid" (two lids for the oblong courgettes), with which you will cover the stuffed vegetables later on.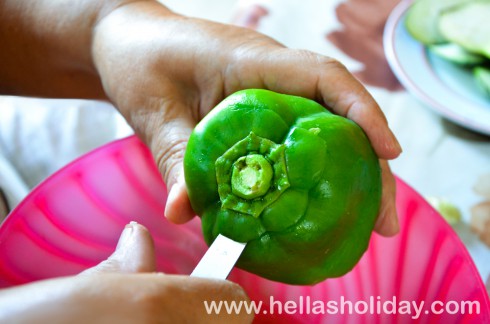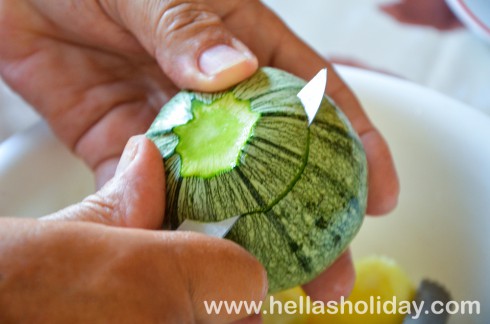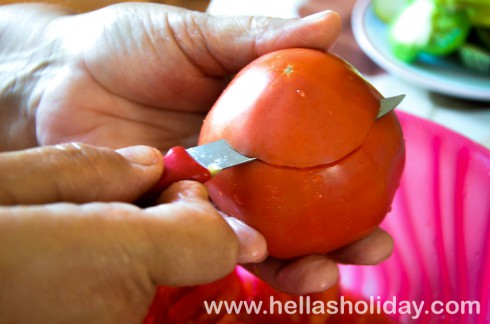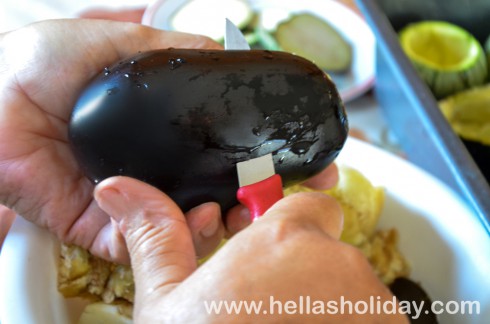 Remove the vegetables' flesh. Using your hands or a knife, remove the core of peppers and their seeds. Discard.
Using a teaspoon, scoop out the flesh of tomatoes and round courgettes. Place it in a large bowl and reserve for later.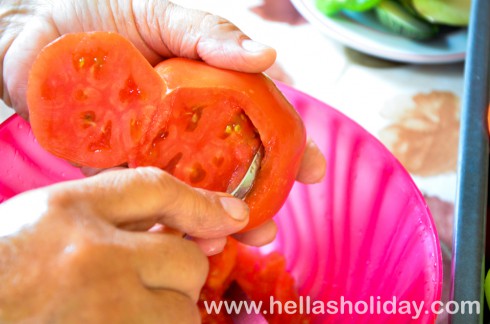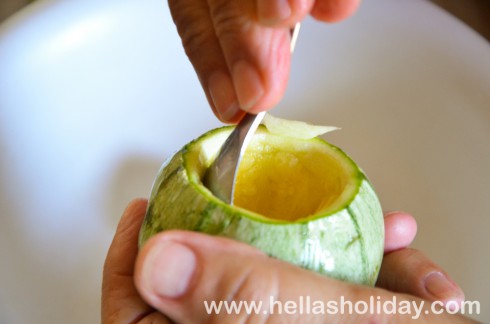 For the aubergines, use a knife to cut off the larger chunks of their flesh and finish by using a spoon, until all flesh is removed. Place flesh into the bowl together with that of tomatoes and courgettes.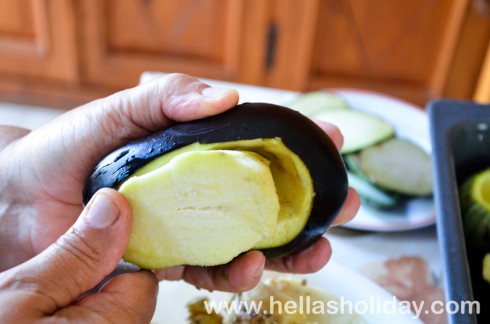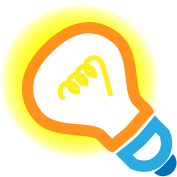 If you are using the oblong courgettes, it may be a little trickier to empty them. For this, you can use a knife or —even better— an apple corer, preferably one of those with the teeth all along their sides rather than those with the serrated ring at their tip. There are also some zucchini corers out there, and these are actually designed for this exact purpose, so they do make the process much easier and faster (for those of you in the USA, you can find one here). Once the courgette flesh is removed, reserve it just like you did with that of the tomatoes and aubergines.
At this stage, you should have something that looks like this: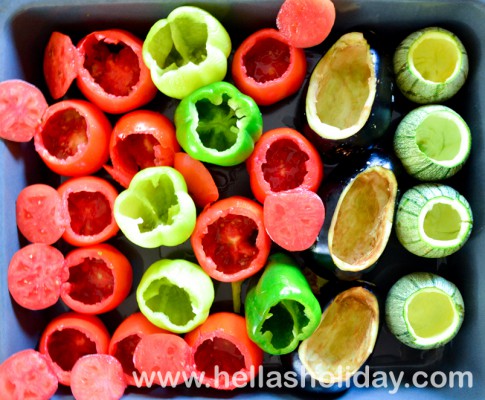 You are ready to go on with the preparation of the stuffing.
Preparation of the stuffing for Gemista
Mash the flesh of tomatoes. If you are using enough of them and they are ripe and juicy, take approximately 200 ml of the mash and set aside for later use. In the remaining tomato juice, add the aubergines' and courgettes' flesh that you reserved previously, together with the onions. Mash them well. To do this you may use a food processor (USA link, Germany link) or a box grater (USA link).
Pour the mash in a large bowl and add the parsley and the spearmint leaves finely chopped.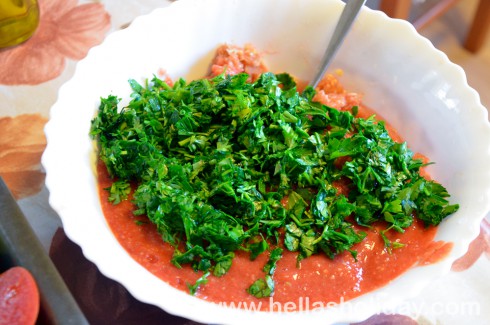 Add the rice, approximately half of the olive oil and the pine seeds (if using).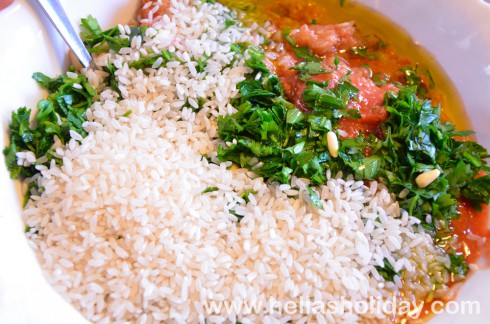 Now, you can optionally add the dried soya mince or the beef mince (after having stir-fried it for about 10–20 minutes with a drop of olive oil).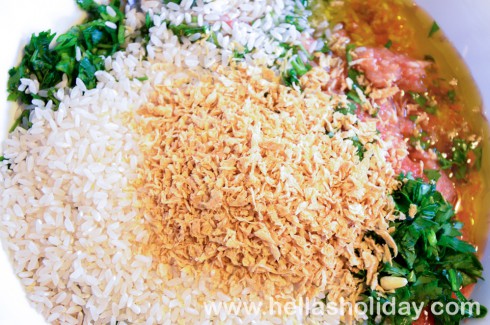 Finally, add the raisins, if you like them. The stuffing is now ready; just mix well and you are done.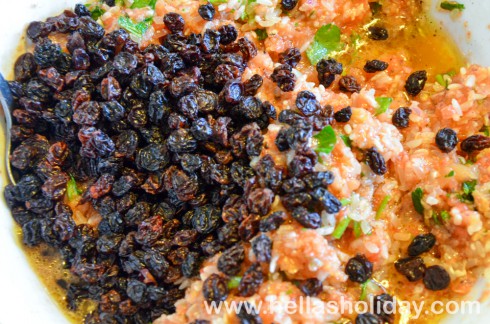 How to stuff the vegetables for Gemista
Using a spoon, fill the vegetables with the stuffing you just prepared, but make sure not to over-stuff them, as the rice will expand while cooking and may cause your veggies to "explode"!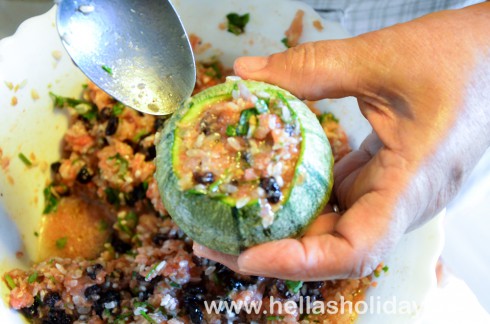 Now, you should have something that looks like this. You did a great job!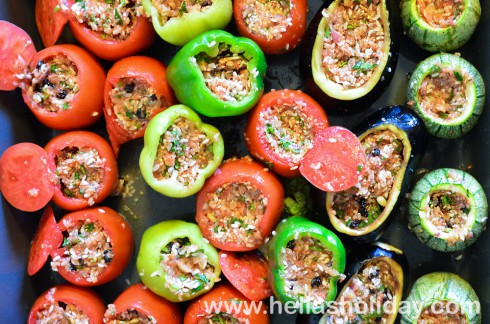 Go on and cover those stuffed vegetables with their lids
Final steps and cooking the Gemista stuffed vegetables
Peel and dice the potatoes, as shown in the next photo. Lightly salt them and place in the baking tray in the empty spaces between vegetables.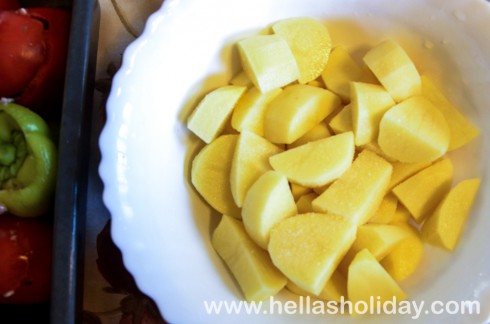 Top with a little tomato juice (the juice you set aside at a previous step or 200 ml of canned tomato juice) and the rest of the olive oil.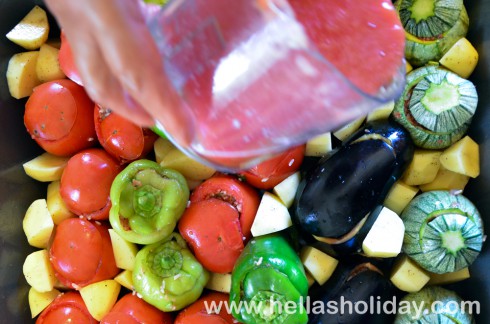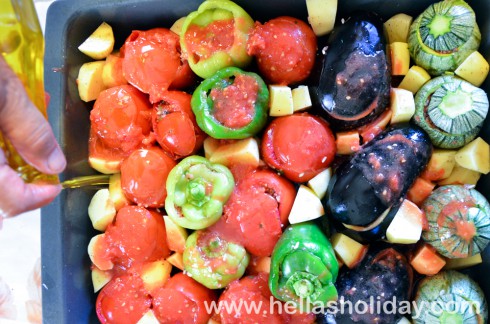 Sprinkle the lids with the dried breadcrumbs. This will protect them from the high heat of the oven and will prevent burning. That's it! The food is ready to go into the oven.
It may sound like a long process, but once you get hold of it, you will see that it is actually not as difficult or time-consuming as you may have thought in the beginning. In any case, the result is so rewarding that you will also agree it is worth the effort!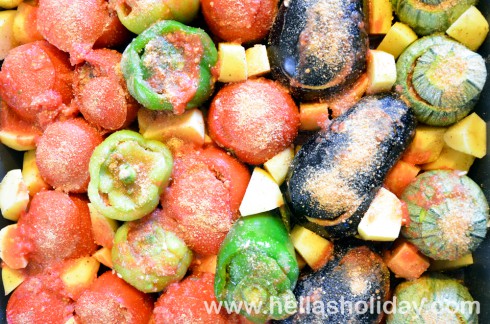 Bake in a preheated oven at 200-220° C degrees (this corresponds to 390–430° F) for approximately one hour and a half. Make sure to check at times, as cooking times will depend on individual ovens and the amount of food prepared. Enjoy this dish hot or even cold.