Seeking for the best beaches in Milos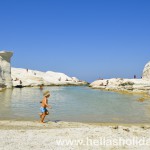 In the beginning of September, we went by ferry on a five-day holiday trip to Milos, a Greek island situated in the Aegean Sea and a member of the Cyclades island group. The island of Milos boasts several magnificent beaches and we were determined to visit them all. This was not an easy task at all, as there are at least 35 beaches all around the island, with a few of them being quite difficult to access by car, and others only accessible via the sea. Nevertheless, within these five days we managed to visit most of them and in this post, we report for you, in ascending order, what we think are the best ten beaches in Milos. It is worth mentioning that Milos has so many beautiful beaches that we actually found it quite tough to decide which the ten best beaches are and to put them in an order.
10. Achivadolimni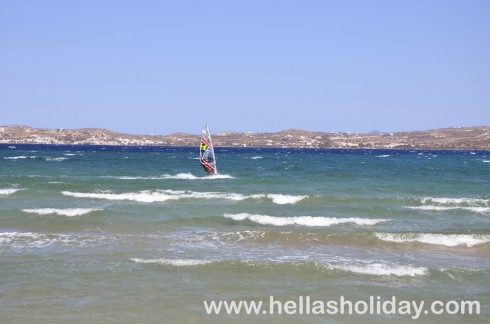 Situated in the main bay of Milos and very easily accessible by car from the main road, Achivadolimni is the beach-to-be if you are a windsurfer looking for some fun waves. As soon as it gets windy with around four to five grades of the Beaufort scale, Achivadolimni will entertain you with small to medium waves well suited not only for professionals but also for beginners starting to learn windsurfing. In fact, the Milos Windsurfers teachers will be happy to give you some lessons. Achivadolimni is a relatively large beach and neighbours, on its east side, the official camping site of Milos. This makes camping even more enjoyable with the sea right in front of your tent. Behind this beach, on the other side of the main road, is a natural lake with salty to brackish water formed by sea water and rainfall. Around this lake you might also spot a few goats browsing around. Not far away from Achivadolimni is the Milos national airport.
9. Provatas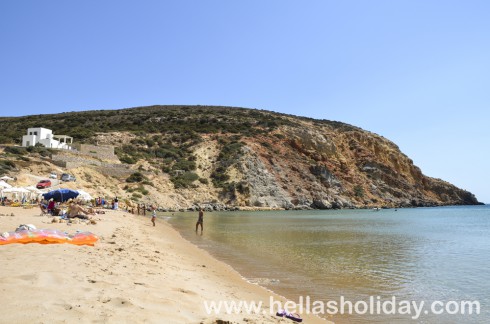 The beach of Provatas, also known as the golden beach, is famous for its amazing yellowish to golden red sand and emerald sea. It is located in the south of Milos and it is easily accessible by car and bus. Thanks to its accessibility and its large sandy beach it is well suited to families. Moreover, it offers several facilities, such as restaurants and bars, so that you do not need to bring too much with you, except for your bathing towels.
8. Triades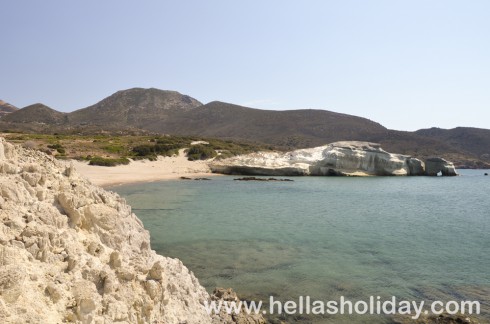 If you are quite adventurous with a well maintained and suitable car, such as a 4×4, and looking for a mostly deserted beach, you will have to drive towards Triades. Triades is located at the very west of Milos, which is predominantly a natural reserve, well known for its local viper (Macrovipera schweizeri, a viper species found only in several of the Cyclades islands in Greece) and it has very few inhabitants. It is worth mentioning here that, although it is not very common to run into one of these snakes, you should take care of this viper as it is venomous. Having been there, we did not see any snakes but kept an eye open for them, just in case. The last ten kilometres of your journey to Triades will be on difficult roads with humps, potholes and scattered smaller to larger stones, some of them being quite pointy and sharp. Beware, some car rental agencies will even forbid you to go to the west coast of Milos with their car, in order to avoid a flat tire or other damage. You will also have to drive slowly, so allow yourself a good hour's trip to reach the beach of Triades. Once arrived, you will immediately notice the deserted beaches of Triades with their fine grain almost glass sand. On the left of the beach, through a small passage and walking along the coast, you can reach a miniature beach, just big enough to fit two persons, and further a larger one with polished white cliffs, similar to those seen in Sarakiniko.
7. Gerontas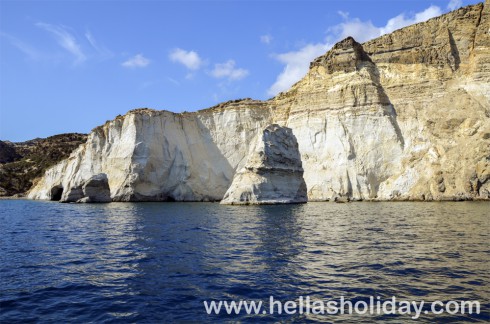 Gerontas can be found at the southernmost part of Milos and it is slightly more difficult to access because of the state of the road that you will have to drive through. The last part towards the beach cannot be accessed by car and you will need to walk for around ten minutes until you reach it. Gerontas beach has no facilities and, as such, it reveals its unspoilt natural and peaceful beauty. Its natural arch, formed at the tip of the cliff and ending directly in the sea, will delight you.
6. Paleochori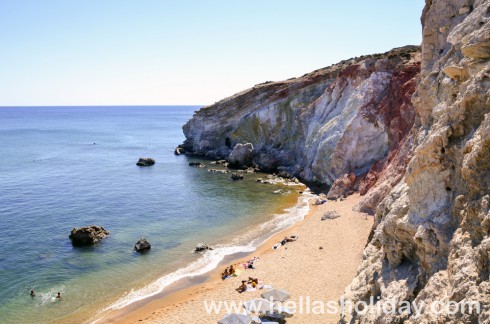 The beach of Paleochori is located in the south of Milos and it is easily accessible via the road. From Adamas, the port of Milos, it is only a 15–20 minutes drive and it is also accessible by bus. Paleochori distinguishes itself by having a pebbled beach instead of a sandy one. It still has some sand at places, but most of the beach is covered by seawater-polished pebbles of various colours ranging from crystal white to orange, red and brown. The beach is divided into a western and an eastern part by rock formations, and the two sides of the beach are connected through a narrow passage. Swimming in the sea you will be surprised by a light —and at places more intense— odour of sulphur, emanating from underwater sulphurous springs. These sulphurous springs are slightly protruding from the seabed like miniature volcano craters and can already be observed at a few meters from the shore. They also have the characteristic of slightly warming up the seawater, which is always pleasant. Do not forget your goggles and snorkel, if you wish to admire the sulphurous springs in action!
5. Tsigrado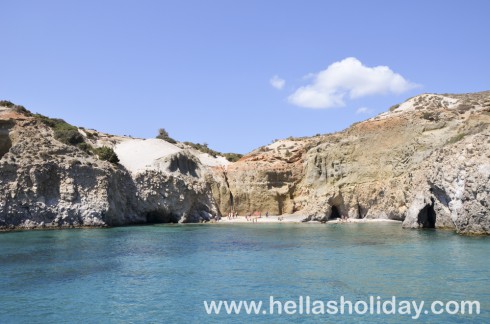 The nice little beach of Tsigrado is situated in the south of Milos and it is easily accessible by road, but probably the most difficult one to reach on foot after you park your car. As said, going there by car is not a problem, but once arrived at the top of the cliff you will have to take your courage into two hands and descend around fifty metres of a steep cliff. The first part of the descent includes walking down a slippery sand dune, followed by a wooden ladder, then you will have to climb down the cliff using a guiding rope and finally you will have to climb down a second wooden ladder. It is not recommended for the faint hearted. Once arrived down, the Tsigrado beach will reward you with its pretty beach incorporated into a small bay and the various coves and caves around that can be reached by swimming.
4. Papafragkas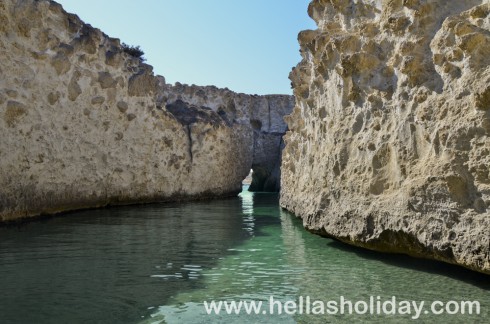 Papafragkas, situated in the north-east of Milos, is a miniature beach forming between two large cliffs. It is unfortunately difficult to reach and you might even miss the gated entrance a few times by car before finding it. Once arrived at the top of the cliff you will have to carefully —and at your own risk, as it can be quite slippery— climb down the improvised pathway carved into the cliff, in order to access the beach. Walk slowly and if necessary sit down in order to descend, by holding yourself wherever possible. Going back up is thankfully a bit easier but mind the slippery dust. Once down at the beach, you will be rewarded with amazing crystal-clear turquoise water. Swimming a few meters out, you will notice on your left a small passage through the cliff; do not miss it, as the other side of the cliff is even more amazing. There, the sun reflects on the water in a small cave within the cliff and gives a beautiful impression of swimming in an emerald sea. A little further, you will find a large cave where you can swim to. Afterwards, you can swim back to the beach through the same passage or —even better— you can swim all around the cliff and then through its main opening you can swim back to the small beach. Papafragkas is definitely the beach for the connoisseur.
3. Fyriplaka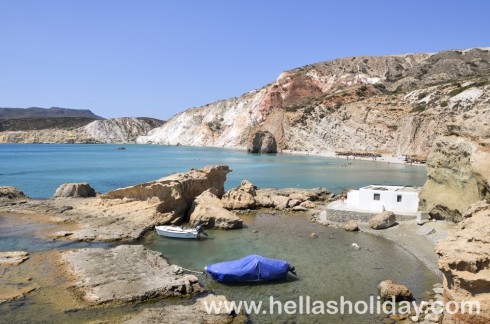 Most probably the longest beach in southern Milos, Fyriplaka is the perfect beach to go to on the days when the northern wind, known as "meltemi", blows with four or more grades of the Beaufort scale. It is easily accessible through the main road and it is also served by bus. What could prove to be slightly more challenging is parking your car on a busy day. The first part of the beach will welcome you with a beach bar featuring techno music and comfy space, such as long chairs in the shade of umbrellas and VIP sunbeds directly in front of the sea. Walking further down the beach, hidden by large rocks, you will discover a more quiet beach, where you can relax away from the music sounds. Do not be surprised if you run into some nudists; it looks that it is quite common to find nudists in the more remote and quiet beaches of the Cyclades islands. Although there are no official mentions of nudism, it looks that this part of the beach is known for that. The cliffs of Fyriplaka will astonish you with their amazing colours of red, white and yellow revealing the existence of minerals that have been mined in Milos for over hundred years. At places the cliffs have small caves that can also be used to lay your towel and protect yourself from the sun or the sand on very windy days.
2. Kleftiko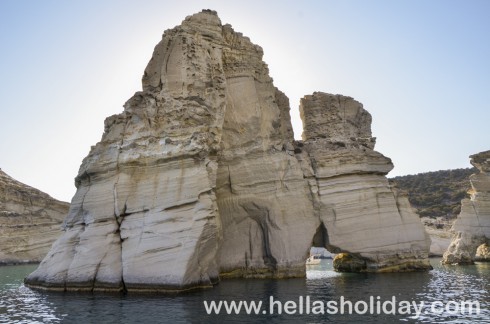 Kleftiko is one of the landmarks of Milos and you cannot claim to have seen the island if you have not visited this beach. Kleftiko is known to have been the old pirates' hideout, where they would stash their stolen treasures. The only way to access Kleftiko —which by the way is situated in the south-western tip of Milos— is by boat. Luckily enough, during the summer there are many daily boat tours, departing from the port of Adamas or from the southern beaches, that will bring you around the island and will stop at several beaches including of course the beach of Kleftiko, giving you enough time to enjoy a good swim around this famous cove of crystal-clear seawater, featuring gigantic rock formations, caves and tunnels. The organised boat tours of Milos will usually provide you with goggles, snorkels and flippers so that you can profit of the beautiful seabed.
1. Sarakiniko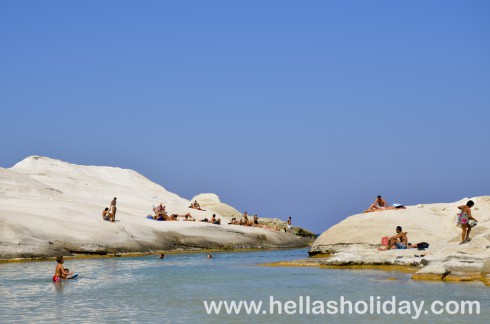 On a not too windy day, you will undoubtedly want to visit the stunning white beach of Sarakiniko, located in the north of Milos. It is a small beach and at peak season it can be quite busy with swimmers, because of its natural beauty and good accessibility, but this is no excuse for missing it. The beach is squeezed between magnificent almost polished white rocks and cliffs originating presumably from calcium minerals. As you watch the sea, on the right side of the beach you will want to walk around these milky rocks that form some sort of small labyrinth, giving you a special feeling that you are walking on the moon. Do not miss the opportunity to shoot a few portrait photos of yourself, featuring this unique background. On the left side of the beach you can explore a few tunnels carved into the cliff. A few meters out in the sea, there is also a rock of around five meters height from where you will be able to dive into the sea if you fancy. The water near the beach is quite shallow until you reach the entrance of the bay. Finally, it is worth mentioning here that Sarakiniko is well suited for families with children.
Among these top ten beaches in Milos, we are sure that you will find the appropriate beach (or beaches) matching your summer holiday expectations. If you have already visited the island, why not share with us the name of your favourite beach?