Parga Travel Guide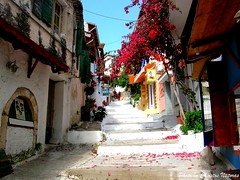 Parga is a town and municipality located in the northwestern part of the regional unit of Preveza in Epirus, northwestern Greece. The seat of the municipality is the village Kanallaki. Parga lies on the Ionian coast between the cities of Preveza and Igoumenitsa. It is a resort town known for its natural environment.
Geography
The city of Parga is built amphitheatrically, and is situated between the mountainous coastal region of Preveza and Igoumenitsa. It is known as the "Bride of Epirus". In the summer, Parga receives tourists from Paxos, Antipaxos, and Corfu who arrive there by boat.
Map of Parga with accommodations
The blue markers shows the location of various accommodations in Parga. The letter in the marker describes the accommodation types: H for Hotel, A for Apartment, R for Resort, B for Bed & Breakfast and O for Other (e.g. pension, villa). Click on the blue marker for more information on the accommodation.