Rethymno Travel Guide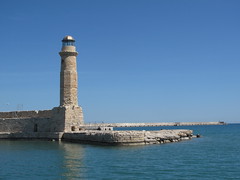 Rethymno is a city of approximately 40,000 people in Greece, the capital of Rethymno regional unit on the island of Crete, a former Latin Catholic bishopric as Retimo and former Latin titular see.
It was originally built during the Minoan civilization, but was never a competitive Minoan centre. It was, however, strong enough to mint its own coins and maintain urban growth. One of these coins is today depicted as the crest of the town: two dolphins in a circle.
Map of Rethymno with accommodations
The blue markers shows the location of various accommodations in Rethymno. The letter in the marker describes the accommodation types: H for Hotel, A for Apartment, R for Resort, B for Bed & Breakfast and O for Other (e.g. pension, villa). Click on the blue marker for more information on the accommodation.