Samos Travel Guide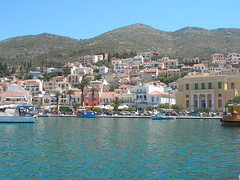 Samos is a Greek island in the eastern Aegean Sea, south of Chios, north of Patmos and the Dodecanese, and off the coast of Asia Minor, from which it is separated by the 1.6-kilometre-wide Mycale Strait. It is also a separate regional unit of the North Aegean region, and the only municipality of the regional unit.
In ancient times Samos was an especially rich and powerful city-state, particularly known for its vineyards and wine production. It is home to Pythagoreion and the Heraion of Samos, a UNESCO World Heritage Site that includes the Eupalinian aqueduct, a marvel of ancient engineering. Samos is the birthplace of the Greek philosopher and mathematician Pythagoras, after whom the Pythagorean theorem is named, the philosopher Epicurus, and the astronomer Aristarchus of Samos, the first known individual to propose that the Earth revolves around the sun. Samian wine was well known in antiquity, and is still produced on the island.
The island was governed by the semi-autonomous Principality of Samos under Ottoman suzerainty from 1835 until it joined Greece in 1912.
Geography
The area of the island is 477.395 km2, and it is 43 km long and 13 km wide. It is separated from Anatolia by the approximately 1-mile-wide Mycale Strait. While largely mountainous, Samos has several relatively large and fertile plains.
A great portion of the island is covered with vineyards, from which muscat wine is made. The most important plains except the capital, Vathy, in the northeast, are that of Karlovasi, in the northwest, Pythagoreio, in the southeast, and Marathokampos in the southwest. The island's population is 33,814, which is the 9th most populous of the Greek islands. The Samian climate is typically Mediterranean, with mild rainy winters, and warm rainless summers.
Samos' relief is dominated by two large mountains, Ampelos and Kerkis. The Ampelos massif is the larger of the two and occupies the center of the island, rising to 1,095 metres. Mt. Kerkis, though smaller in area is the taller of the two and its summit is the island's highest point, at 1,434 metres. The mountains are a continuation of the Mycale range on the Anatolian mainland.
According to Strabo, the name Samos is from Phoenician meaning "rise by the shore".
Map of Samos with accommodations
The blue markers shows the location of various accommodations in Samos. The letter in the marker describes the accommodation types: H for Hotel, A for Apartment, R for Resort, B for Bed & Breakfast and O for Other (e.g. pension, villa). Click on the blue marker for more information on the accommodation.