Vergina Travel Guide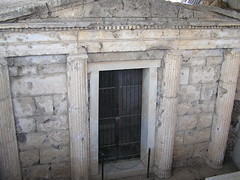 Vergina is a small town in northern Greece, part of Veroia municipality in Imathia, Central Macedonia. Vergina was established in 1922 in the context of the population exchanges according to the Treaty of Lausanne, and it was a separate municipality until 2011, when it was merged with Veroia under the Kallikratis Plan. It is now a municipal unit within Veroia, with an area 69.047 km2.
Vergina is best known as the site of ancient Aigai, the first capital of Macedon. It was here in 336 BC that Philip II was assassinated in the theatre and Alexander the Great was proclaimed king. Aigai has been awarded UNESCO World Heritage Site status as "an exceptional testimony to a significant development in European civilization, at the transition from classical city-state to the imperial structure of the Hellenistic and Roman periods".
The site was discovered in 1976, and excavated during the 1977/8 season in a campaign led by Manolis Andronikos, which unearthed the burial site of the kings of Macedon, including the tomb of Philip II, father of Alexander the Great which unlike so many other tombs had not been disturbed or looted. It is also the site of an extensive royal palace and of many rich ancient tombs. The objects and paintings found in the tombs at Vergina are of extraordinarily high quality and historical importance. A museum now contains Philip's tomb, a second museum is being constructed for the palace and other finds.
Map of Vergina with accommodations
The blue markers shows the location of various accommodations in Vergina. The letter in the marker describes the accommodation types: H for Hotel, A for Apartment, R for Resort, B for Bed & Breakfast and O for Other (e.g. pension, villa). Click on the blue marker for more information on the accommodation.