Volos Travel Guide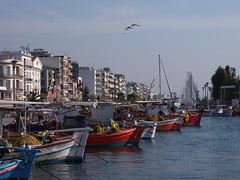 Volos is a coastal port city in Thessaly situated midway on the Greek mainland, about 330 kilometres north of Athens and 220 kilometres south of Thessaloniki. It is the capital of the Magnesia regional unit. Volos is the only outlet to the sea from Thessaly, the country's largest agricultural region. With a population of 144,449, it is an important industrial centre, while its port provides a bridge between Europe, the Middle East and Asia.
Volos is the newest of the Greek port cities, with a large proportion of modern buildings erected following the catastrophic earthquakes of 1955. It includes the municipal units of Volos, Nea Ionia and Iolkos, as well as smaller suburban communities. The economy of the city is based on manufacturing, trade, services and tourism. Home to the University of Thessaly, the city also offers facilities for conferences, exhibitions and major sporting, cultural and scientific events. Volos participated in the 2004 Olympic Games, and the city has since played host to other athletic events, such as the European Athletic Championships. Volos hosted the 7th International Olympiad on Astronomy and Astrophysics from 27 July to 5 August 2013.
Geography
Volos is the administrative centre of the Magnesia regional unit. Many of the city domains are separated through natural barricades, such as rivers.
Three main rivers/mountain torrents all rise from mount Pelion, crossing the city to create a unique urban geography, before ending in the Pagasetic Gulf flowing west. The Anavros river, famous for Jason's pass, divides the Nea Demetriada district from the rest of the urban area. Krausidonas is the major river passing through the city, and constitutes the natural lung of the urbanized area of Volos, as well as the boundary between the major municipalities of the metropolitan city, the municipalities of Volos and Nea Ionia. Xirias, is the largest torrent of the metropolitan urban area of Volos, and passes through the Nea Ionia municipal area.
Map of Volos with accommodations
The blue markers shows the location of various accommodations in Volos. The letter in the marker describes the accommodation types: H for Hotel, A for Apartment, R for Resort, B for Bed & Breakfast and O for Other (e.g. pension, villa). Click on the blue marker for more information on the accommodation.