Kalavryta Travel Guide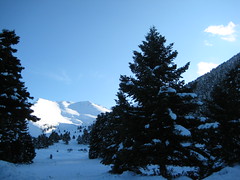 Kalavryta (Greek: Καλάβρυτα) is a charming small town in North Peloponese at 750 metres near Patra and at approximately two hours and a half drive from the capital, Athens. Kalavryta is well known for its ski station called Chelmos ski centre on the homonymous Mount Chelmos (also known as Aroania, highest summit: 2,341 metres).
The ski centre is located at only 15 km from Kalavryta and is beloved by the Greeks themselves as well as foreigners, who enjoy winter sports.
The history has marked Kalavryta due to the terrible Holocaust during the World War II and nowadays the town proudly stands as a symbol of freedom.
Around Kalavryta you will be able to find quite a few Byzantine monasteries, such as the monasteries of Aghia Lavra and Mega Spilaeo. Kalavryta and its surrounding region offers wonderful panoramic views over the moutains of Peloponnese and the Gorge of River Vouraikos . In fact, the 22-km long Diakopto-Kalavryta trip on the small cogwheel train, known as Odontotos, which goes through the Vouraikos Gorge is one of the most fabulous trips in the region.
Places to visit
the Diakopto-Kalavryta railway driving through the Gorge of Vouraikos with its impressive waterfalls and rock formations
the village of Planitero with its fish farms and restaurants serving fresh trout, sturgeon and salmon
Monuments and Museums to visit
the Cave of the Lakes with its colourful and extraordinarily shaped stalactites, stalagmites and blue clear lakes, situated in the village of Kastria, only 17 kilometres from Kalavryta
the monument and memorial site of the World War II Holocaust, which overlooks the town of Kalavryta
the historical Monastry of Aghia Lavra including its banner of the Revolution of 1821
the Monastry of Mega Spilaeo, which houses the oldest Christian Orthodox church, built in 326 AC at 924 metres above sea level
Events to attend
various events, such as concerts and theatrical plays, taking place in the region of Kalavryta during the summer
the traditional feast for the celebration of the 15th of August
the anniversary of the World War II Holocaust in Kalavryta, on December 13, 1943
Food and Drinks to taste
game meat, such as wild boar
dairy products, such as feta and frumaela cheese, fresh butter and traditionally-made yogurt
hand-picked herbs, like oregano and many different kinds of herbal tea
trachanas, a type of dried food usually made from wheat grains or flour, fermented with the addition of yogurt or sourdough
fresh egg pasta
locally grown fresh or smoked trout, sturgeon and salmon
locally produced wines and spirits, such as tsipouro
Map of Kalavryta with accommodations
The blue markers shows the location of various accommodations in Kalavryta. The letter in the marker describes the accommodation types: H for Hotel, A for Apartment, R for Resort, B for Bed & Breakfast and O for Other (e.g. pension, villa). Click on the blue marker for more information on the accommodation.