Kastelorizo Travel Guide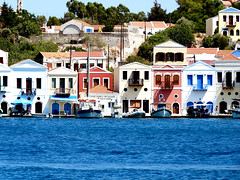 Kastellorizo or Castellorizo, officially Megisti, is a Greek island and municipality of the Dodecanese in the Eastern Mediterranean. It lies roughly 2 kilometres off the south coast of Turkey, about 570 km southeast of Athens and 125 km east of Rhodes, almost halfway between Rhodes and Antalya, and 280 km northwest of Cyprus. Kastellorizo is part of the Rhodes regional unit.
The island has become very popular in recent years among tourists looking for an isolated place in the Dodecanese, thanks also to the 1991 Oscar-winning movie Mediterraneo, by Gabriele Salvatores, which is set on the island during the Second World War.
Geography
The houses of the town are slender and characterised by wooden balconies and windows of the Anatolian type. Behind the waterfront, many houses are still in a ruinous state. At the entrance to the harbour, on the east side, stand the single story remnants of the former Italian government house, erected in 1926 by the Italian architect Florestano Di Fausto, who also designed some of the most important buildings of the Italian period in Rhodes. Nearby is the island's former Ottoman mosque which dates from the second half of the 18th century and which has been restored and re-opened as a museum since 2007. From here starts the town's quay, which runs along all three sides of the harbour. The central square — Plateia Ethelondon Kastellórizou — lies at the midpoint of the eastern side, near the vessel dock. On the opposite side of the harbour one has a good view from this vantage of Pera Meria, the western quay, and the monasteries of Profitis Ilías and Aghia Triadha, the former now an army base.
Ascending the steps on the eastern side of the town, one reaches the suburb of Horafia, where there is a square surrounded by the Church of St. George, with a high dome of Byzantine type, and the Cathedral of Saints Constantine and Helena. It has three naves divided by monolithic granite columns from the temple of Apollo Lykios in Patara. The columns carry ogival arches. Further east is the small bay known as Mandraki, the secondary harbour of the island.
Since August 2020 the island also features an interactive Puzzle Museum, the first of its kind in Greece and one of the very few in the world.
Map of Kastelorizo with accommodations
The blue markers shows the location of various accommodations in Kastelorizo. The letter in the marker describes the accommodation types: H for Hotel, A for Apartment, R for Resort, B for Bed & Breakfast and O for Other (e.g. pension, villa). Click on the blue marker for more information on the accommodation.