Kastoria Travel Guide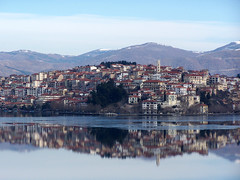 Kastoria is a city in northern Greece in the region of Western Macedonia. It is the capital of Kastoria regional unit. It is situated on a promontory on the western shore of Lake Orestiada, in a valley surrounded by limestone mountains. The town is known for its many Byzantine churches, Byzantine and Ottoman-era domestic architecture, its lake and its fur clothing industry.
Map of Kastoria with accommodations
The blue markers shows the location of various accommodations in Kastoria. The letter in the marker describes the accommodation types: H for Hotel, A for Apartment, R for Resort, B for Bed & Breakfast and O for Other (e.g. pension, villa). Click on the blue marker for more information on the accommodation.