Lakka (Paxos) Travel Guide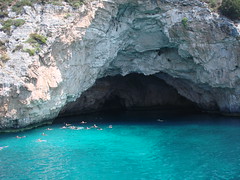 Paxos is the smallest island within the Ionian Islands. As a group with the smaller island of Antipaxos and adjoining islets, it is also called by the plural form Paxi or Paxoi. The main town and the seat of the municipality is Gaios. The municipality has an area of 30,121 km2. The area of the island is 76 square kilometres. In Greek mythology, Poseidon created the island by striking Corfu with his trident, so that he and his wife Amphitrite could have some peace and quiet.
Geography
The island is approximately eight miles in length and tipped up towards the west. The west coast is dominated by steep white, chalky cliffs that are greatly eroded at sea level, and harbour many 'blue caves', which can be explored on launches departing from Gaios. Much of the attractive landscape is still covered in olive groves. These stretch from Lakka, the harbour community in the north, through Magazia to Gaios, the capital. Olive oil making, soap manufacture and fishing were supplanted by tourism as the main industry in the mid sixties, resulting in a construction boom, which has greatly altered the coastline around Gaios, the capital of the Paxiot demos. There are ferry and jetfoil connections daily with Kerkyra and with the mainland at Igoumenitsa. Excursions via Corfu to Albania can also be arranged with the local jetfoil operators.
Map of Lakka (Paxos) with accommodations
The blue markers shows the location of various accommodations in Lakka (Paxos). The letter in the marker describes the accommodation types: H for Hotel, A for Apartment, R for Resort, B for Bed & Breakfast and O for Other (e.g. pension, villa). Click on the blue marker for more information on the accommodation.