Methoni Travel Guide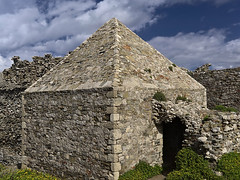 Methoni (Greek Μεθώνη) is a town of 1,169 inhabitants situated near the Cape Akritas on the Messenian Peninsula, in South Peloponnese. The town lies at a strategic position and it has held fortifications since the ancient times, as revealed by the writings of Ancient Greek historians.
Nowadays, Methoni is well-known for its majestic medieval Fortress, which is one of the most important fortifications in Greece, and for its beautiful beaches. The Castle of Methoni was built by the Venetians around the thirteenth century. Its interior walls feature impressive carvings of lions dating back to the fifteenth century. Connected to the Castle through a stone-built causeway, is Bourtzi, an octagonal tower built on a rocky islet and serving as a lighthouse, prison, as well as a refuge in cases of siege.
The islet complex of Oinouses, located offshore of Methoni and consisted of Sapientza, Schiza and Santa Marina, forms a natural protection to Methoni's port. One of the deepest spots of the Mediterranean Sea, the Dike of Oinouses (5,200 metres approximate maximum depth), is also located in the sea of Methoni.
Places to visit
the village of Foinikounda and its beautiful beach
the beach of Methoni
the Lampes beach
the Ammos beach in Sapientza, accessed by boat
Monuments and Museums to visit
the Fortress of Methoni
the Venetian Well by the town's entrance
the Syggros Square with the old School in the centre of the town
the church of Aghios Georgios
the Byzantine church of Aghios Vasileios
Events to attend
music concerts and theatrical plays taking place during the summer in the Castle of Methoni
Food and Drinks to taste
fresh fish
plakotiganites: flat pancakes topped with grated cheese
kagianas with artichokes: scrambled eggs with fried artichokes
pasto: cured pork meat
sausages with sage
olives
olive oil
Map of Methoni with accommodations
The blue markers shows the location of various accommodations in Methoni. The letter in the marker describes the accommodation types: H for Hotel, A for Apartment, R for Resort, B for Bed & Breakfast and O for Other (e.g. pension, villa). Click on the blue marker for more information on the accommodation.