Neos Marmaras Travel Guide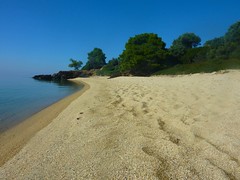 Chalkidiki, also known as Chalcidice, is a peninsula and regional unit of Greece, part of the region of Central Macedonia, in the geographic region of Macedonia in Northern Greece. The autonomous Mount Athos region constitutes the easternmost part of the peninsula, but not of the regional unit.
The capital of Chalkidiki is the town of Polygyros, located in the centre of the peninsula, while the largest town is Nea Moudania. Chalkidiki is a popular summer tourist destination.
Geography
The Cholomontas mountains lie in the north-central part of Chalkidiki, with the highest peak reaching 1,165 metres above sea level.
Its largest towns are Nea Moudania, Nea Kallikrateia and the capital town of Polygyros.
During the following centuries, Chalkidiki was part of the Byzantine Empire. On a chrysobull of Emperor Basil I, dated 885, the Holy Mountain was proclaimed a place of monks, and no laymen or farmers or cattle-breeders were allowed to be settled there. With the support of Nikephoros II Phokas, the Great Lavra monastery was founded soon afterwards. Today, over 2,000 monks from Greece and many other Eastern Orthodox countries, such as Romania, Moldova, Georgia, Bulgaria, Serbia, and Russia, live an ascetic life in Athos, isolated from the rest of the world. Athos with its monasteries has been self-governing ever since.
Finally, the peninsula was incorporated into the Greek Kingdom in 1912 after the Balkan Wars. Many Greek refugees from East Thrace and Anatolia were settled in parts of Chalkidiki after the 1922 Greco-Turkish war, adding to the indigenous Greek population.
Map of Neos Marmaras with accommodations
The blue markers shows the location of various accommodations in Neos Marmaras. The letter in the marker describes the accommodation types: H for Hotel, A for Apartment, R for Resort, B for Bed & Breakfast and O for Other (e.g. pension, villa). Click on the blue marker for more information on the accommodation.