Neos Marmaras Travel Guide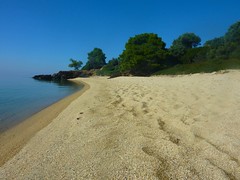 Chalkidiki, also spelled Chalcidice, is a peninsula and regional unit of Greece, part of the region of Central Macedonia, in the geographic region of Macedonia in Northern Greece. The autonomous Mount Athos region constitutes the easternmost part of the peninsula, but not of the regional unit.
The capital of Chalkidiki is the town of Polygyros, located in the centre of the peninsula, while the largest town is Nea Moudania. Chalkidiki is a popular summer tourist destination.
Geography
The Cholomontas mountains lie in the north-central part of Chalkidiki. Chalkidiki consists of a large peninsula in the northwestern Aegean Sea, resembling a hand with three 'fingers'. From west to east, these are Kassandra, Sithonia, and Mount Athos, a special polity within Greece known for its monasteries. These "fingers" are separated by two gulfs, the Toronean Gulf and the Singitic Gulf. The Chalkidiki borders on the regional unit of Thessaloniki to the north, and is bounded by the Thermaic Gulf on the west and the Strymonian Gulf on the east.
There are several summer resorts on the beaches of all three fingers where other minor towns and villages are located, such as at Yerakini and Psakoudia in central Chalkidiki, Kallithea, Chanioti and Pefkochori in the Kassandra peninsula, Nikiti and Neos Marmaras in the Sithonia peninsula, and Ouranoupolis at Mount Athos.
Map of Neos Marmaras with accommodations
The blue markers shows the location of various accommodations in Neos Marmaras. The letter in the marker describes the accommodation types: H for Hotel, A for Apartment, R for Resort, B for Bed & Breakfast and O for Other (e.g. pension, villa). Click on the blue marker for more information on the accommodation.