Oia (Greece) Travel Guide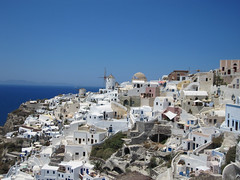 Santorini, officially Thira and classical Greek Thera, is an island in the southern Aegean Sea, about 200 km southeast from the Greek mainland. It is the largest island of a small circular archipelago, which bears the same name and is the remnant of a caldera. It forms the southernmost member of the Cyclades group of islands, with an area of approximately 73 km2 and a 2011 census population of 15,550. The municipality of Santorini includes the inhabited islands of Santorini and Therasia, as well as the uninhabited islands of Nea Kameni, Palaia Kameni, Aspronisi and Christiana. The total land area is 90.623 km2. Santorini is part of the Thira regional unit.
The island was the site of one of the largest volcanic eruptions in recorded history: the Minoan eruption, which occurred about 3,600 years ago at the height of the Minoan civilization. The eruption left a large caldera surrounded by volcanic ash deposits hundreds of metres deep.
It is the most active volcanic centre in the South Aegean Volcanic Arc, though what remains today is chiefly a water-filled caldera. The volcanic arc is approximately 500 km long and 20 to 40 km wide. The region first became volcanically active around 3–4 million years ago, though volcanism on Thera began around 2 million years ago with the extrusion of dacitic lavas from vents around Akrotiri.
Geography
The metamorphic grade is a blueschist facies, which results from tectonic deformation by the subduction of the African Plate beneath the Eurasian Plate. Subduction occurred between the Oligocene and the Miocene, and the metamorphic grade represents the southernmost extent of the Cycladic blueschist belt.
Map of Oia (Greece) with accommodations
The blue markers shows the location of various accommodations in Oia (Greece). The letter in the marker describes the accommodation types: H for Hotel, A for Apartment, R for Resort, B for Bed & Breakfast and O for Other (e.g. pension, villa). Click on the blue marker for more information on the accommodation.