Pylos Travel Guide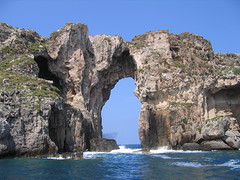 Pylos (Greek Πύλος) is a small picturesque town amphitheatrically built at the historical Navarino Bay in the Ionian Sea. The town, which is part of the prefecture of Messenia, has a population of 2,561 inhabitants as of 2001 and is located 52 km from Kalamata.
Pylos has the biggest natural port in the Peloponnese and it is one of the most important touristic destinations in the prefecture of Messenia, thanks to the exceptional natural beauty of the region, as well as its glorious history.
The region of Pylos is one of the best destinations for quiet and relaxing as well as adventurous summer holidays. It features magnificent beaches of golden sand or pebbles and numerous sights, such as its Old Castle, its New Castle and —of course— the Palace of Nestor, which is the best preserved Mycenaean palace.
Places to visit
the lagoon of Gialova and its brackish water habitat (Natura 2000), home for hundreds of species, including the protected African chameleon (Chamaeleo africanus)
the beach Voidokoilia, which is considered one of the most beautiful beaches in the Mediterranean Sea
the beach Golden Sand in Gialova, which —as its name implies— is a beach of fine sand "golden" in colour
the rocky island Sfaktiria, which can be reached by boat, is one of the biggest attractions in the region, thanks to its beauty, position and several monuments, some of them dating back sixteen centuries.
the town of Methoni with its medieval Fortress
Monuments and Museums to visit
the ancient Palace of Nestor (thirteenth century BC), located 17 km from Pylos, which is the best preserved Mycenaean palace
the Old Castle of Pylos or Palaeokastro or Castle of Navarino (initially built during the fifth century BC and altered to what it is today during the thirteenth century AC) at the top of a steep hill near Voidokoilia and the Cave of Nestor.
the New Castle of Pylos or Neokastro (sixteenth century AC)
the Cave of Nestor, which is directly connected with the Old Castle and where signs of Neolithic settlement and ceramic items of the third millennium BC have been found
Events to attend
The anniversary of the Battleship of Navarino, on the 20th October
the religious celebration of Panaghia Gorgopighi, which takes place on the 23rd of September
Food and Drinks to taste
local wines
olives
olive oil
grapes
fresh and dried figs
fish and seafood
herbs
Map of Pylos with accommodations
The blue markers shows the location of various accommodations in Pylos. The letter in the marker describes the accommodation types: H for Hotel, A for Apartment, R for Resort, B for Bed & Breakfast and O for Other (e.g. pension, villa). Click on the blue marker for more information on the accommodation.