Rethymno Travel Guide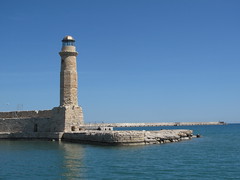 Rethymno is a city in Greece on the island of Crete. It is the capital of Rethymno regional unit, and has a population of more than 30,000 inhabitants.
Rethymno was originally built during the Minoan civilization. The city was prominent enough to mint its own coins and maintain urban growth. One of these coins is today depicted as the crest of the town: two dolphins in a circle.
Map of Rethymno with accommodations
The blue markers shows the location of various accommodations in Rethymno. The letter in the marker describes the accommodation types: H for Hotel, A for Apartment, R for Resort, B for Bed & Breakfast and O for Other (e.g. pension, villa). Click on the blue marker for more information on the accommodation.