Skiathos Travel Guide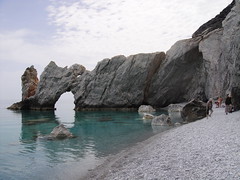 Skiathos (Greek Σκιάθος) is a small island in the Aegean Sea and it belongs to the island complex of Sporades. It belongs to the prefecture of Magnesia and it has 6,160 inhabitants as of 2001.
Skiathos (σκιά+Άθως) probably took its name owing to its geographical position, as being in the shade (Greek σκιά, pronounced skia) of Mount Athos (Greek Άθως).
The main characteristic of Skiathos is that it is a rather forested island, as opposed to most other islands in the Aegean Sea (e.g. the Cyclades island complex), with vegetation (mainly Stone Pines, Aleppo Pines and olive trees) reaching the seashore, creating a magnificent scenery.
Skiathos is very well-known all around the world for its beautiful beaches, such as Koukounaries (also known as Chrysi Ammos=golden sand beach), Banana, Megali Ammos, Aselinos, Lalaria, Achladies and many others. Skiathos is also one of the main places, where the famous film Mamma Mia was filmed.
Places to visit
The Bourtzi Peninsula, which separates the port of Skiathos in two, where ruins of a fortress built during the early twelfth century AC can be seen
the beaches: Koukounaries, Banana, Megali Ammos, Aselinos, Lalaria, Achladies, Vasilias, Kalamaki, Troulos, Kastro and others
the brackish-water habitat of Lake Strofilia
Monuments and Museums to visit
the Medieval and Byzantine Castle (built around the mid fourteenth century AC)
the house where the internationally-acclaimed Greek Novelist Alexandros Papadiamantis (1851–1911) lived
the old monastery of Panaghia Kechria
the Byzantine church of Genisi tou Christou
the old monastery of Panaghia Ekonistria
Events to attend
Easter in Skiathos
the various cultural events taking place during July and August, known as a "dream by the wave", after the homonymous novel of Alexandros Papadiamantis
the representation of the battleship that took place in Skiathos on the 13th of September 1943, and during which the submarine Lambros Katsonis was sunk by a German antisubmarine missile; this event is known as Katsoneia and it takes place every year around this date
Violin Days, a series of events happening during the first ten days of September in honour of the submarine Lambros Katsonis and its Crew
Food and Drinks to taste
fish and seafood
traditional cheese pie
olive oil and olives
Aspro, a traditional sweet of Skiathos made with almonds
locally produced aromatic honey
home-made fresh pasta
herbs
Map of Skiathos with accommodations
The blue markers shows the location of various accommodations in Skiathos. The letter in the marker describes the accommodation types: H for Hotel, A for Apartment, R for Resort, B for Bed & Breakfast and O for Other (e.g. pension, villa). Click on the blue marker for more information on the accommodation.