Thasos Town Travel Guide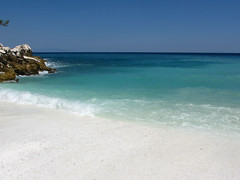 Thasos or Thassos is a Greek island in the North Aegean Sea. It is the northernmost major Greek island, and 12th largest by area.
The island has an area of 380 square kilometres and a population of about 13,000. It forms a separate regional unit within the East Macedonia and Thrace region. Before the local administration reform of 2011, it was part of the Kavala Prefecture. The largest town and the capital is Thasos, officially known as Limenas Thasou, "Port of Thasos", situated at the northern side. It is connected with the mainland by regular ferry lines between Keramoti and Thassos town, and between the regional centre of Kavala and Skala Prinou.
Thasos's economy relies on timber from its forests, marble quarries, olive oil, and honey. Tourism has also become important since the 1960s, although not to the level of other Greek islands.
Geography
Thasos island is located in the northern Aegean sea approximately 7 km from the northern mainland and 20 kilometres south-east of Kavala, and is of generally rounded shape, without deep bays or significant peninsulas. The terrain is mountainous but not particularly rugged, rising gradually from coast to centre. The highest peak is Ypsario, at 1,205 metres, somewhat east of centre. Pine forest covers much of the island's eastern slopes.
The rocks have undergone several periods of regional metamorphism, to at least upper amphibolite facies, and there was a subsequent phase of retrograde metamorphism. At least three periods of regional deformation have been identified, the most important being large scale isoclinal folding with axes aligned north-west. The T-zone is deformed and is interpreted by some authors as a regional thrust of pre-major folding age. There are two major high angle fault systems aligned north-west and north-east respectively. A large low-angle thrust cuts the gneiss, schist and marble sequence at the south-west corner of the island, probably indicating an overthrusting of the Serbomacedonian Massif onto the Rodope Massif.
In the early 20th century, mining companies exploited the island's zinc-lead rich calamine ores, with a yield of around 2 million tonnes, and a processing plant at Limenaria produced zinc oxide. Iron ore was mined on a significant scale from 1954 to 1964, with a yield of around 3 million tonnes. Since 1964, surveys have established the existence of a deep-level zinc-lead deposit, but the only mining activity on the island has been marble quarrying.
Map of Thasos Town with accommodations
The blue markers shows the location of various accommodations in Thasos Town. The letter in the marker describes the accommodation types: H for Hotel, A for Apartment, R for Resort, B for Bed & Breakfast and O for Other (e.g. pension, villa). Click on the blue marker for more information on the accommodation.