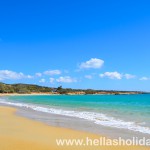 On our quest to discover new fabulous places in Greece, we decided last summer to focus on the Cyclades (Greek: Κυκλάδες). The Cyclades is a cluster of Greek islands located southeast of mainland Greece in the Aegean Sea. Out of the impressive 220 islands that consist the Cyclades (including uninhabited islands and rocky islets), we chose Koufonisia (Greek: Κουφονήσια), an idyllic island complex regrouping three main islands not far away from Naxos, another very beautiful island.
The Koufonisia island complex is composed of Lower Koufonisi (called Kato Koufonisi in Greek), Upper Koufonisi (Pano Koufonisi in Greek) and Keros. Kato Koufonisi and Keros are almost uninhabited and only serve for local fishermen or leisure boats to temporarily anchor around the islands. Nevertheless, Kato Koufonisi is still worthwhile visiting for its picturesque anchor port and the little church named Panagia, which is built on a jetty, on top of ancient Greek civilisation ruins. Pano Koufonisi, which people simply call Koufonisi, is actually the touristic and habitable island with 366 permanent residents and 3.5 square kilometres of surface. That is the precise the island, where we stayed for three days and which I am going to introduce you to in this article.
Our trip to Koufonisia, Greece
Last year we decided to go for late summer holidays, to avoid the crowdedness of peak summer season and, therefore, we only set off the last week of September. Our first destination on our trip was Koufonisi and so, after landing in Athens, we immediately took the X96 bus to go to the port of Piraeus. From there, we got the ferry and started our journey towards Koufonisi. You will be pleased to hear that there is a direct ferry to Koufonisi, but because of our flight schedule we decided to take another route, which had us change on the island of Naxos for a smaller ferry called the Express Skopelitis, leaving us just enough time to have a refreshing freddo cappuccino at a café at the port of Naxos, on a pretty hot day of late summer. The Express Skopelitis ferry travels from Naxos to Amorgos (port of Katapola) and back, once a day during the summer season, and on both ways it calls at several smaller but really beautiful islands. These are Herakleia, Schoinousa and Upper Koufonisi, but during peak season it also calls at Donousa and Aegiali (Amorgos).
Fist day — Arrival in Pano Koufonisi
After a good seven and a half hours of boat trip in total, we finally arrived in Koufonisi, where we were kindly fetched by the owners of the bungalow that we rented for the three nights. The white with blue shutters bungalow did not disappoint us at all; it had a nice view over the Aegean Sea as promised on their website, a comfy little terrace and even a nice neighbour; a cute little black kitten that seemed to like us a lot and visited us on a regular basis!
After a long and quite exhausting travel day, we had a brief stroll around the port on our way to a typical Greek fish-tavern that a friendly Swedish —and regular tourist in the region— had recommended us earlier that day, while on the Express Skopelitis ferry. On our way, we could admire a sensational sunset over the sea, nicely shining on the few windmills that dominate the island's front.
Our second day in Pano Koufonisi — Foinikas, the first amazing beach
Early the next day we headed to Foinikas beach, located at only half an hour walk from our bungalow (and another 5–10 minutes from the port). This scenic beach is a combination of rocky —but not too high— cliffs, uncountable small caves in the sea, an amazingly golden sand and calm turquoise-blue waters. Foinikas, also known as Charokopou, is well protected from the wind and its shallow rock formations allow you to set base there, enjoy the sun, read a good book, take a dive into the warm sea and maybe swim to one of its exciting caves. Not only this beach was amazingly beautiful, but it was —of course— not overcrowded at all at that time of the year, which made our stay at the sea really peaceful and relaxing. Good to know here is that there are a few nudists around the beach, who also enjoy their fair share of the sea along with the non-nudists. As a rule of thumb, the further you go away from the city the more skinny dippers you will see.
Third day in Pano Koufonisi — the stunning beaches of Pori, Gala and Pisina
On the third day we were more adventurous and decided to walk around the island as much as possible, aiming at Pori beach, which is considered to be the most beautiful beach in Koufonisi. After having walked around 2.5 kilometres and having met a few shade-seeking sheep and goats on our way uphill, we were able to admire Pori and its magnificent moon-shaped beach and crystal blue sea water, reminding us of a lagoon. From that same point we also spotted an amazing cave formed between the rocks with that very same translucent turquoise water, a great spot for those who like to dive into the water from a high cliff.
Before having a swim at Pori beach and enjoying the refreshing sea water after all this walk under the burning sun, we set out to discover the surroundings of Pori beach in order to find Gala. Gala (=milk) is an open cave with a tiny pebbled beach and —as its name indicates in Greek— milky to almost white sea water which originates by the waves smashing against its rocks and pebbles. We first took the wrong direction, but after asking at the restaurant on Pori beach, we were delighted to find and admire Gala's milky water and unique beach.
Having had our well-earned swim at the almost deserted Pori beach we headed back to the village, but this time not by taking the unique road of Koufonisi as we did to go there, but by walking all along the rocky south coast of the island. This is quite of a unique experience as the rocks themselves have pretty amazing yellowish to reddish colors without forgetting the many sailing boats which could be seen at the horizon from the coast. On our way back we couldn't miss to notice the smaller beach pockets looking like private beaches and accessible to everyone, as well as what the Greeks call "pisines". Pisines are some sort of swimming pool-like gulf formations into the rocks next to the sea, where one can enjoy a swim in still and clear water, while feeling like in a jacuzzi or private swimming pool.
The main village, "Chora", in Koufonisi
Back into the village of Koufonisi, also called Chora and which is situated just behind the port, we visited what you may think of the smallest museum in the world. The Agios Georgios (Saint George) museum is composed of one single room and exposes many tools used in the past by our ancestors. Chora, with its pretty narrow streets, tiny shops, cafés and cozy taverns, is definitely where all the social action goes on and a great place to hang out in the evening after an entertaining and relaxing day at the beach. If you feel hungry and fancy a quick snack before dinner, do not miss having a delicious Greek souvlaki or gyros, which, in Koufonisi, you can buy through a small restaurant's window!
Unfortunately, the three days had already passed by and we had to leave. We slightly regretted having booked only three days as we could have enjoyed staying a few extra days in that paradisiac island. On the other hand we really didn't regret going for late summer holidays, as the weather was more than perfect and the beaches almost empty. To sum up, Koufonisi is an incomparable island for relaxing summer holidays and —to what I have seen so far— it offers a few of the most delightful beaches in Greece. No wonder Koufonisi has the reputation of being the gem of the Cyclades.
So are you also planning to visit Koufonisi? Actually, I'm sure you will, after checking out these photos! On the Hellas Holiday travel portal for Greece you will find the best accommodation and hotels in Koufonisi, as well as book your ferry tickets.