Situated in the north-east side of Aegina between Agia Marina and Souvala, the small village of Vagia is known for its traditional fishing port and for its islet, which is at swimming distance from the beach. The beach is surrounded by beautiful pine trees of various sizes, which will make your stay at the beach even more enjoyable providing you with some pleasant shade. The beach of Troulos is also located nearby.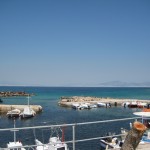 Vagia has sufficient accommodation facilities, hotels and rooms to let, as well as taverns and cafés along the sea-side, where you will be able to relax and enjoy fresh sea food in all quietude. Furthermore, Vagia offers easy access to archaeological and historical sites and is a great starting point to explore the island.
Vagia is the ideal place if you are looking to avoid the crowd without being far away from other villages or historical sites on the beautiful island of Aegina.
Please specify a Flickr ID for this gallery