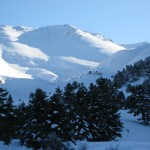 Located at 758 metres elevation in central-east Achaea in Greece and only 2.5 hours by car from Athens, Kalavryta (Greek: Καλάβρυτα) is the perfect winter destination for relaxation and winter sports. Kalavryta is well known for its ski centre located in the east of the town, on the highest mountain of the region, Mount Aroania also known as Mount Chelmos (2341 m). The ski centre, which is only 30 minutes drive from the town of Kalavryta, offers 7 lifts and 14 slopes ranging from very easy (green slopes) to very difficult (black slopes).
Another famous attraction in the region of Kalavryta is the Diakopto–Kalavryta Railway, which is a 22-km trip of a bit more than an hour duration, driving you through caves and beautiful rivers, water falls and peculiar rock formations on its single line narrow railway. This little cogwheel train will bring you down to Diakopto, where you will be able to enjoy the nice view to the Korinthiakos Gulf, as well as Mounts Vardousia (2495 m), Giona (2510 m) and Parnassos (2457 m) in the background.
But that is not all; the surroundings of Kalavryta, smaller mountains covered with fir trees and pine trees, and valleys of platanus trees, offer many small picturesque villages, such as Planitero, which are undoubtedly worth a stroll. In Planitero, the local restaurants have their own trout, salmon and sturgeon hatcheries, where you can can taste fresh fish. Last but not least, the Cave of the Lakes in Kastria, will amaze you with its stalactites and stalagmites, formed over thousands of years, and its clear blue lakes, which are the result of rain and snow melting through the hill. A short guided tour in the cave is offered.
You do not even need to worry about finding a hotel room suitable for you, as there are almost 30 hotels, hostels, guesthouses and apartments dispersed around Kalavryta. Hellas Holiday has made your job even easier by providing you with a list of accommodations in the region of Kalavryta, as well as a map of Kalavryta with accommodations.
Please specify a Flickr ID for this gallery